Preservia – the digital preservation board game
Roll the dice.
Explore the country of Preservia, where mismanagement and corruption led to a Digital Dark Age.
Recover lost digital heritage.
Restore the Preservian preservation policy.
Win, and become Preservia's secretary of state of digital preservation!
About the game
Preservia is a cooperative, educational and competitive board game about digital preservation. Players (or teams of players) cooperatively explore Preservia – initially, the map is hidden under a 'fog of war'. They have to answer questions to recover lost digital heritage and preservation policy fragments and evaluate each other's answers. This fosters learning (from each other, or from the game master) about important digital preservation (policy) issues. At the end of each round, players get the chance to restore a chapter of Preservia's preservation policy.
Each player plays a role and plays e.g. an archivist who knows a lot about digital government archives, or a video game curator with old computer games as expertise. But in the end, only one player can win the game. The player who was the best at exploring, recovering and restoring will become Preservia's new secretary of state of digital preservation!
Please let the world know who became secretary of state, and what you think of the game. Use social media (#Preservia) or e-mail me (to allow me to add your information to these pages). Some playtest experiences can already be found on Twitter: https://twitter.com/search?q=preservia.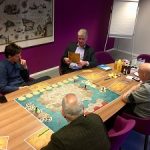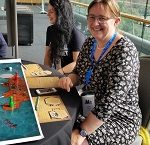 Honor roll
They were Preservia's secretary of state of digital preservation before you:
Wim Westland and Tom Derks (ex aequo) (playtest Nationaal Archief)
Marcel Ras (playtest Netwerk Digitaal Erfgoed)
Tobias Steinke (playtest iPRES 2018 Boston)
Sarah Higgins (playtest iPRES 2018 Boston)
Team Mette van Essen and Christian van de Ven (open playtest Nationaal Archief)
Yolanda, Stephanie, Leo, Marcel, Wim M., Thomas, Natascha, Welmoed, Wim K., Monique and Stefan (Archiefdagen 2019)
Preservia has also been played at the National Library of the Netherlands (KB), in Wales (Aberystwyth University), Australia (National Archives of Australia) and France (

Bibliothèque nationale de France

). In Brazil (Universidade de São Paulo) they are preparing a Portuguese version.
(If you won and want your name added to the list, or if you don't want your name to appear here anymore, please let me know.)
Download
You can't buy Preservia. You can download it for free as a public domain (CC0) resource. Printing the game resources (with e.g. an A0-sized game board) may cost you some money. Some cutting is required. And you will have to bring your own pawns, dice and pens. What you need exactly, is documented in the game rules document.
Download it here:
Preservia pack 1.0 NL (zip, 78 MB):
Preservia pack 1.0 EN (zip, 64 MB):
Preservia pack 1.0 FR (zip, 69 MB):
Borrow
You can download, print, cut and play your own copy of Preservia. What's also possible is that you borrow a copy of the game of someone who did all the work before you. I have e.g. one (older) English and two Dutch versions of the game, including dice and pawns. See also the honor roll for other organisations that have played the game.
Tailoring
If you want to, you can tailor Preservia to your specific needs by changing the tasks. Perhaps the standard tasks are too easy or difficult for your players, or you want to tailor the tasks to your particular organisation. The task texts are stored in a tab separated file. They are imported into Microsoft Office Word by means of the mail merge functionality to create printable task cards. See the printing guide document for more information.
If you create a tailor made version of Preservia, please consider sharing your version with the community, e.g. by sending your version to me (to allow me to add your version to these pages).
Size
I created Preservia for the digital preservation course Leren Preserveren (Learning Digital Preservation) of the Dutch Digital Heritage Network. The playing board therefore has a size of A0 to accomodate playing the game with a group of (up to 14) students. The pages with the six-sided 'land tiles', the task, player and game master cards and the game rules must be printed on A4. See the printing guide document for more information.
If you create a version of Preservia on a different (and perhaps smaller) size, please consider sharing that version with the community.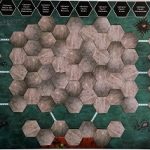 Room for improvement
Preservia has been played several times by now, and I keep receiving useful feedback. This helps me to improve the game play and resources, or think about future changes to the game. I will therefore occasionally publish an update of the game on these pages as an additional downloadable game version. If you send me game versions I will add them in the same manner.
Some suggestions to improve the game are
Adding the 'chapter numbers' of the task cards to the initially empty tiles at the top of the board (to make it easier for players to see which chapters are still empty).
Adding an hourglass or timer to limit (and even) the available time to complete tasks.
Allowing each player to challenge another player once during the game (but what should these challenges be?)
Introducing more tasks that have an impact on the players' collections of information objects and policy elements (deletion/take-down, theft/hack?)
Making the game board more detailed, with e.g. a 'file format forest' (and accompanying task), etc.
Changing the game master from a separate person to a circulating role for players (as in e.g. Trivial Pursuit, where player A reads player B's question).
If players, or your game master, have color blindness, print (some) resources without the background image by removing it from the template file before using mail merge.
Although Preservia has 6 starting positions to accommodate a larger number of players, it may be more fun (and more interactive) to have e.g. 3 teams of 2 players instead of 6 individual players.
If you have suggestions to improve the game, please share them with me, or create your own version (and consider sharing that version with the community).
Inspiration and credits
I (Remco van Veenendaal, Preservation Officer, National Archives of the Netherlands & Veenentaal) found inspiration for Preservia in board games like Settlers of Catan and The Legends of Andor. Preservia also has elements of (fantasy) role-playing games and real-time strategy computer games with a 'fog of war'. Preservia is based loosely on the ISO 14721:2012 OAIS reference model and the catalogue of preservation policy elements of the European SCAPE project. This catalogue was translated to Dutch by the Dutch Digital Heritage Network and reworked into a preservation policy guide (wegwijzer duurzaamheidsbeleid). The map of Preservia and the tiles were created using Inkarnate Worlds and the free font Mason Alternate. Preservia was translated to English for the game room at the iPRES 2018 conference in Boston with financial help of the Dutch Digital Heritage Network. Here you can also find my iPRES lightning talk presentation about Preservia: https://osf.io/872r3/. I would also like to thank my colleagues from the National Library of the Netherlands for playing Preservia at World Digital Preservation Day (and proving that I'm not required to play the game), and all other playtesters.